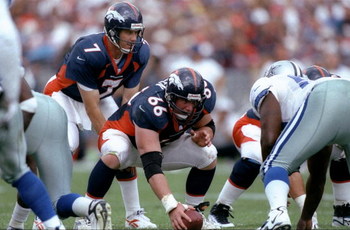 Former Denver Broncos Center Tom Nalen was drafted by the club in the 7th round of the 1994 NFL Draft out of Boston College.
Rushing behind Denver's offensive line that was anchored by Nalen, six different Bronco running backs have had 1,000-yard rushing seasons during Nalens career. One of just six backs in the history of the NFL to rush for 2,000 yards, former Broncos running back Terrell Davis flourished running behind Nalen.
An excellent pass blocker, Broncos quarterbacks John Elway (1997), Brian Griese (2001) and Jake Plummer (2004) each had career-best seasons while taking snaps from Nalen.
Starting 188 games at center over a 14-year span, Nalen played his entire career with Denver.
A five-time Pro Bowl selection, Nalen started in -- and won -- two Super Bowls with the Broncos.
Nalen will be eligible for the Pro Football Hall Of Fame in the year 2014.