Last updated: February 4th, 2011

Drafted by the Washing Redskins in the first round (seventh overall) of the 1999 NFL Draft, Champ Bailey entered the NFL after playing collegiate football at the University of Georgia.
A member of the 2000's All-Decade team, Bailey was a 10-time Pro Bowl selection (more than any other player in the history of the NFL), a 3-tim First team All Pro selection and 3-time second team All Pro selection all just 12 seasons.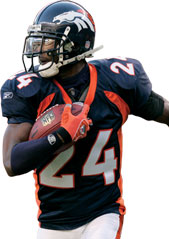 His six Pro Bowl selections as a Bronco (2004-07, '09-10) tie him with linebacker
Karl Mecklenburg
and safety
Dennis Smith
for fifth in team history behind quarterback
John Elway
(9), safety
Steve Atwater
(8), linebacker
Randy Gradishar
(7) and tight end
Shannon Sharpe
(7).
He is currently tied for sixth in team history with 30 interceptions, and his 48 career interceptions are the most by a cornerback and the third most in the NFL since his rookie season in 1999.
Over the course of his career, Bailey has totaled over 650 tackles, 3 sacks, 120 passes defended, 48 interceptions, 6 forced fumbles and scored four touchdowns.
On September 15, 2009 Bailey was chosen in the Denver Broncos 50th Anniversary team by the Denver community.
Having played in more Pro Bowls than any cornerback in the Hall Of Fame, Bailey will be a sure-fire HOF inductee when he becomes eligible five full seasons after he's retired.